Our Unsung Heroes
Walk into any funeral organised by Direct Funeral Services and you will immediately be greeted by the sight of fresh florals. Next, your eyes focus on the photo wreath before darting around to locate a familiar face. Finally, a black "RECEPTION" stand captures your attention. You quickly walk up to the reception table to find it well-prepped with the message book where you can write a note to comfort the family, safe box for the condolence money, thermometer, hand sanitizer, and a now-familiar Covid-19 health declaration QR code.
Wake locations are usually well set up before the arrival of the family and guests, thus many overlook the careful planning and effort behind the scenes. Our wake locations are put together by our very own logistics department – the ones many rarely think of when the word "funeral" comes to mind, yet, they are integral to our day-to-day operations.
This department does not only maintain the stock, quality and cleanliness of the items required for the wake, they also ensure that every wake location is perfectly arranged for you to receive your loved ones. At Direct Funeral Services, 7 robust men between the age of 29 to 61 form our logistics department. Together, they hustle all over Singapore to set up and tear down wake decorations for us to offer our respects to our loved ones.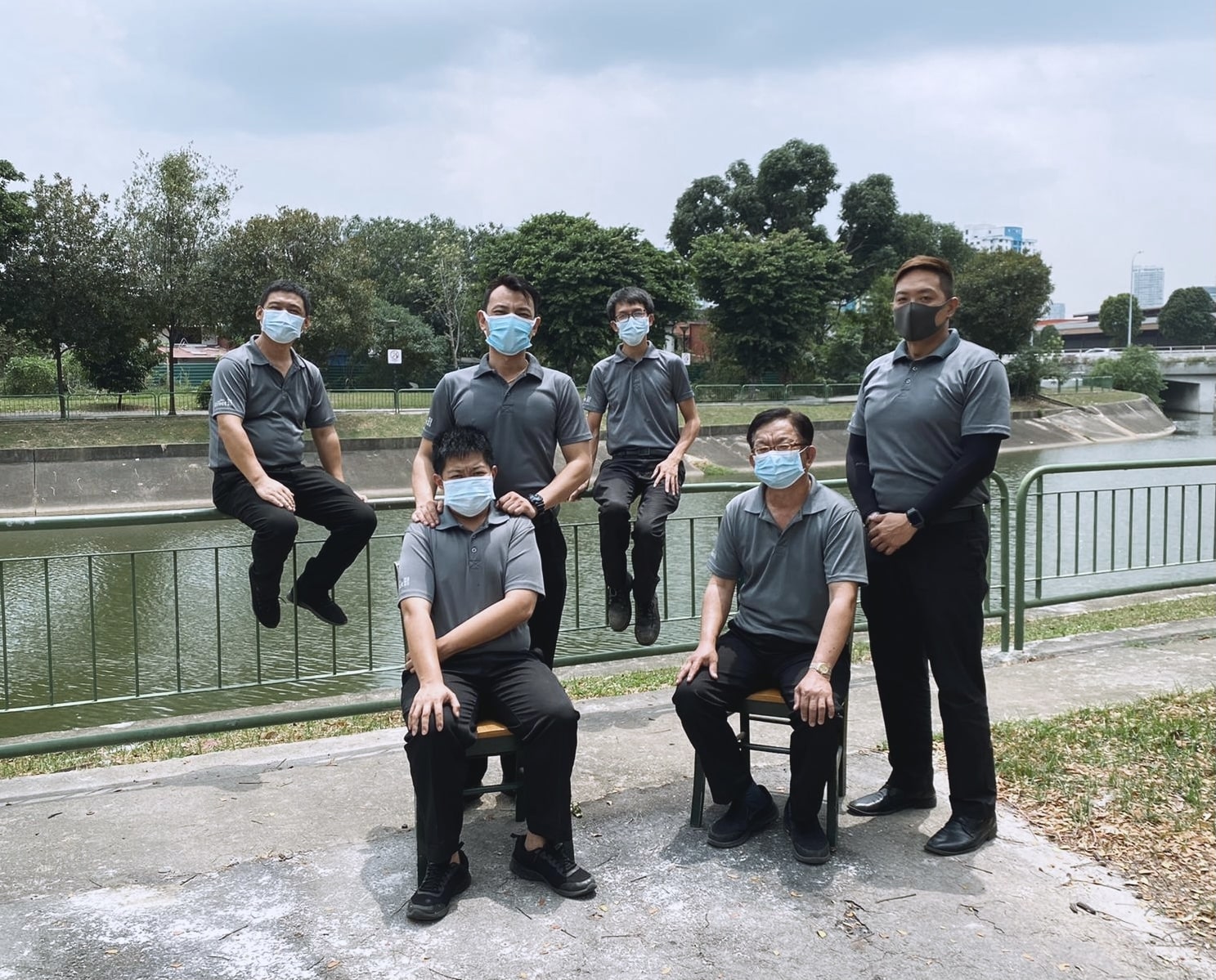 Today, we sat down with our logistics team leader Hoe (age 61), logistics crew Ken (age 43) and Danny (age 29) to learn more about their job and the challenges that they face.
Why did you join this trade and were there any objections from your family?
KE: There were many reasons. In fact, it was a mid-career switch for me. I have always been curious about the industry and felt that this was a more meaningful job. It has been more than 8 months since I have joined and I stayed on because of the colleagues here and I found meaning in the work that I am doing. My family members were all supportive of me joining this trade.
DA: I wanted a change of job so I was looking out for job openings and came across the job advertisement for this department. I faced some objections from my parents, but I explained about how it's the last journey for the deceased, and that it's good to help them. Ultimately, they agreed with my thoughts and I went ahead to join the company.
HO: You'll be surprised by my story! I was working as a hawker before this but it was very tiring. I had a friend who applied for a position with Direct and I accompanied him for the interview. My friend was selected (while I was still waiting to hear from Direct) but he decided to leave shortly after. That's how I ended up joining! On the first day of work, I almost quit around lunch time *laughs* but I decided to continue. It has been over 4 years since I started. Fortunately for me, my family was very accepting of me working in this trade!
Tell us about your typical day at work.
KE: We start the day by reporting to the office where we receive our tasks from our team leader. If there are no funerals or new cases, we will proceed with general housekeeping. Of course this doesn't mean we can relax and do nothing. While working on maintenance, we also have to be ready to go at a moment's notice!
DA: When we receive a case, we'll load the necessary logistics according to the package type, into the lorry. We will then go through the checklist prepared by our team leader to ensure that we have all the logistics items loaded up. Next, we will make a pitstop to collect the flowers from the flower shop before heading down to the wake location. For the simpler packages, set ups take approximately 30 to 40 mins while the bigger packages take approximately 1.5 hours.
HO: Previously, my typical job scope was very much like Danny and Ken. Since my promotion to the position of a Logistics Team Leader in late 2020, my job consists of me preparing the checklist of items for the respective packages that come in, communicating with the funeral directors on the religion of the selected package, and ensuring that the schedule and timing for each package is correct.
I also have the responsibility of liaising with external vendors (e.g., tentage) on whether the tentage has been prepped before I dispatch our guys to the wake location for our set-up. All these responsibilities require me to have basic computer knowledge, which I did not have *laughs* so my manager taught me how to use computers last year! Learning computer skills was really a huge achievement for me that I never dreamed could happen.
Are there any notable differences between the setup for the different religions?
DA: Of course! For instance, the backdrop, type of flower arrangements & prayer items differ for the different religions. Even Taoist and Buddhist funerals have their differences – Taoist funeral set-ups do not include a Buddha table.
KE: One notable difference is in the statues. For Buddhist there is a Buddha statue while Taoist set-ups include lantern stands without the Buddha statue. For Christian set-ups we do not have any statues at all.
HO: For Roman Catholic, we always have to double check if the family has requested for Mother Mary or Jesus (as the backdrop) and for Taoist (Teochew dialect), their caskets must be placed horizontally at the wake location instead of vertically like the others.

Are there any difficulties that you face in your job?
DA: Wakes in landed properties are more challenging than those held at void decks or parlours. Every landed property is different and often, we have to work around the land space upon our arrival.
Another challenge would be to carry the coffin down from the second storey to the first storey on funeral day. It takes about 8 men to do so and with the coffin between us and we have to coordinate our steps very well in order to carry the casket down safely.
HO: The challenge usually comes when setting up at landed properties. Some properties are not carpeted and have marble floors. We have to be extra cautious when setting up on such surfaces. Some families will request we shift their furniture and some properties have space constraints so we have to propose alternatives (e.g. placing some items indoors and some outdoors). We also have to be mindful not to block any entrances to ease the visitor flow.
You are normally the first point of contact with the family members at the wake locations. How do you manage their emotions or requests?
HO: We occasionally cross paths with the families as we are at the wake location earlier for the set up. Once, a family member left her bag at the wake area and was unable to find it. Just as we were leaving, she ran over to our lorry and asked if we'd seen her bag or know where it was. We had not seen her bag but offered to help find it. In the end, it was on one of the chairs at the wake location. The client apologised to us after and we told her that it was fine.
On our part, we always bear in mind that the families have just experienced a huge loss and we try our best to be patient and more understanding of their current state of mind and empathise with them. We also try to help them with their requests as much as we can.
The skills that you've learnt here, do you think it can be applied to other industries?
DA: Yes, the problem solving skills I've picked up here are definitely applicable in other industries. Sometimes I get dispatched to set up the smaller cases alone. There have been cases where the tent set up was delayed or there are some space constraints at the wake location. For the former it will delay all the other taskings that I have on hand that day. I will have to immediately think of other solutions and make decisions immediately to solve the problems.
KE: The time management skills are certainly transferable across industries. Sometimes we get 6-7 locations that we have to go to for set-up and tear down in a day and we must never be late for the set-up. If our set-up is not ready then it will delay the timing the families receive their loved ones. For the Buddhist and Taoist religions, it will affect the prayer timings as well.
HO: Computer skills definitely! Besides this, we do get multiple cases a day and I've to plan the taskings with considerations of the location of the wake on top of the set-up and funeral timings, so that we can save time traveling. This is especially so during the peak hours! But currently, I do not have any plans to leave the company.
This article is part of a series of interviews with our colleagues in the various departments of our company. Keep a lookout for our next interview with the Floral Department that will be released on 31 July 2021. Meanwhile, check out our Funeral Insider page to get an insider's view on what life is like in the death industry!