Planning a funeral is akin to planning an event. The framework is largely similar – location, number of people anticipated to be attending, duration, types of flowers, etc. are things to be decided upon almost immediately.
When Covid-19 hit, families and our funeral staff have to be mindful in ensuring that we are kept up to date on the safety measures and to take every precaution needed. The factor that holds arguably the greatest impact, would be the number of people allowed to gather in a common area. Apart from "how many tables & chairs should we set up?", the number of people attending the wakes, or even setting up the wakes were not as big a factor in pre-Covid times. During this time, a maximum of 30 people are permitted to be at the wake at any given time and hearse escort parties are not allowed. These precautions mandated by NEA changes the way families and friends send off their loved ones.
"Covid 19 has affected a lot of the bereaved families rather than the industry itself. Especially those whose families were overseas and were unable to return or families with many children and grandchildren. Fortunately, services like live streaming allow for family members who were unable to physically attend, virtually send their loved ones off."
– Mason, Funeral Director
To ease the load of the bereaved families in their time of grieving, we took on initiatives like providing thermometers, hand sanitisers, Travel & Medical declaration forms (which include wake visitation slots for guests to fill up, assisting in crowd management), contactless way of giving condolence money, etc. Our funeral directors and service crew have learnt to be more adaptable to change, picking up new roles like:
helping families familiarise themselves with NEA regulations while being mindful of their emotional needs
assisting in temperature taking and registration onsite
acting a safety ambassadors and assisting families with the administratives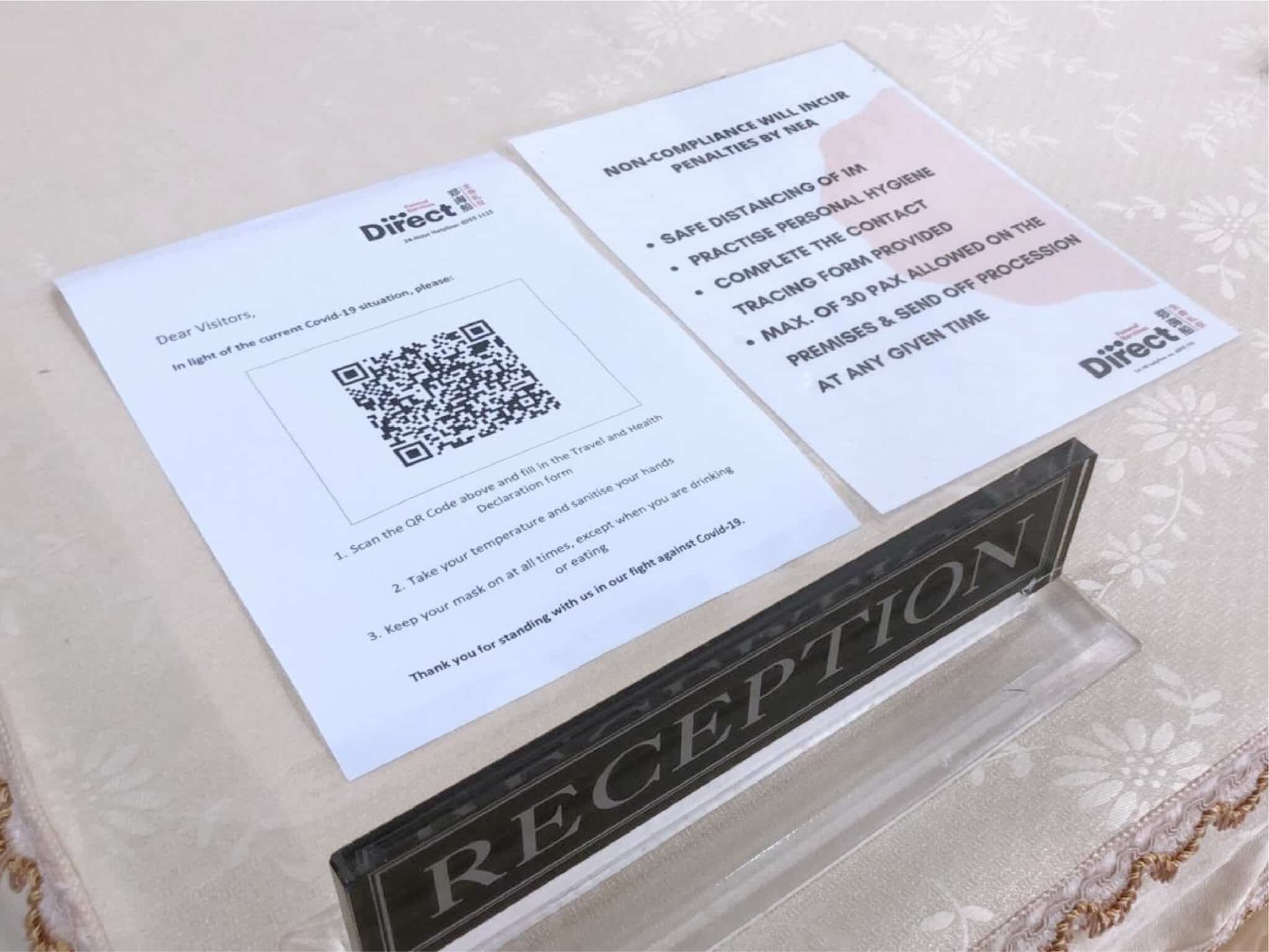 Another initiative we've taken on in our efforts to better help families who are grieving during this pandemic is to offer live streaming services for the groups who are at risk (i.e. young children, elderly, etc) and for those who are unable to fly back into the country to attend the wake and funeral.
For those who are curious, some other regulations that we have to abide to include switching out buffets to bento sets for families while they keep vigil onsite, opting for individually packaged drinks and snacks for attending guests and refraining from the inclusion of wind instruments and singing in our live bands. A detailed look at the NEA regulations during Phase 3 can be found here.