As we go through life, funerals are something we eventually witness, attend, or unfortunately participate in. These events often come with much confusion, discomfort and perhaps, even a general sense of loss.
Our four-part series will provide you with the answers you're looking for, by delving into the funeral customs, traditions and rites of Singapore's four major religious groups. In this second part of the series, we will explore Catholic funeral traditions, mass and etiquettes. Read on to find out more!
What is a Catholic funeral?
At a glance, a Catholic funeral can easily be confused with a Christian one. Similar to their Christian counterparts, Catholics believe in the afterlife. They believe that the soul of the deceased continues on to Heaven, Hell or Purgatory. The third destination is unique to Catholicism and plays a significant role in the traditions of a Catholic funeral.
The belief in purgatory is what leads us to witness Mass being carried out before the funeral, where time is taken to appeal to God for mercy and the forgiveness of the deceased's sins.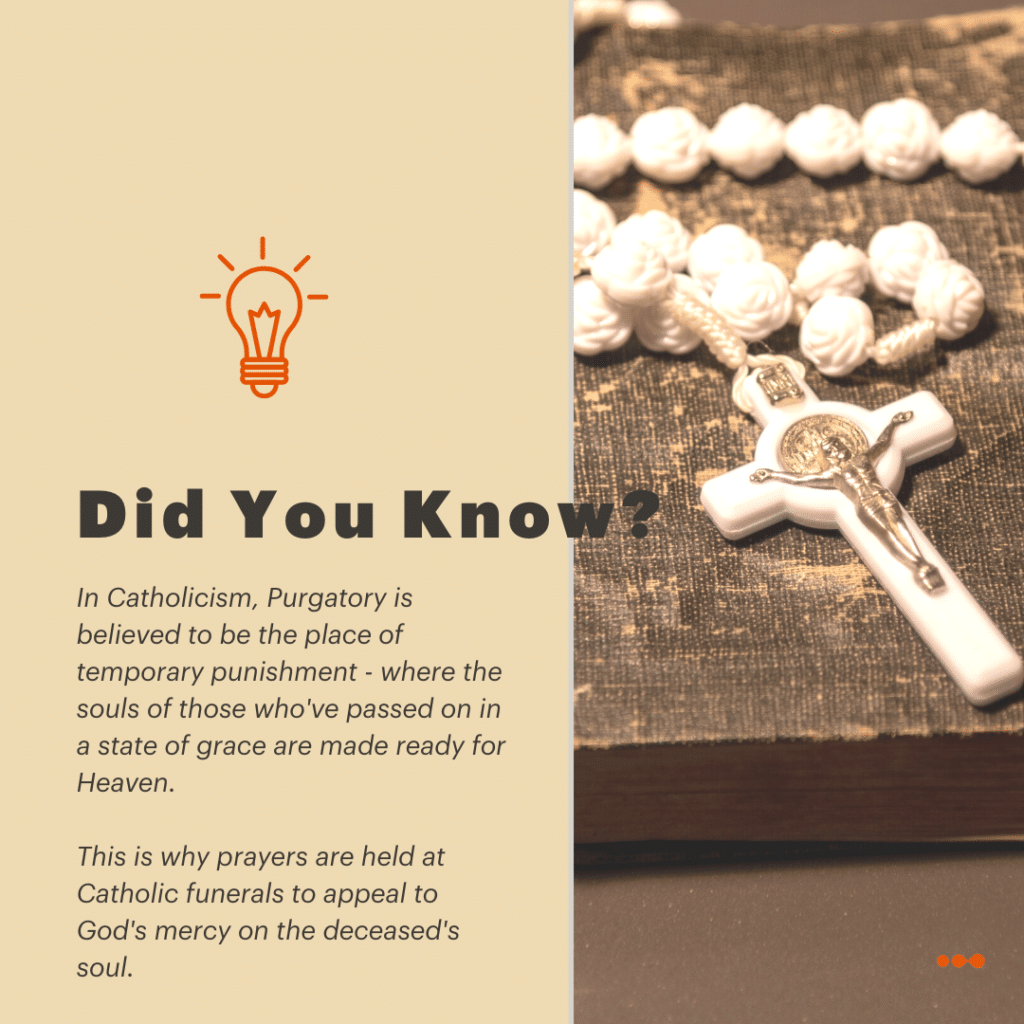 Catholic funeral traditions
So, what exactly is the essence of a Catholic funeral? Well, let's take a look at some of the traditions!
Catholic funerals are held either in a Catholic church, in a funeral parlour or at the void deck. These funerals are led by a Catholic priest. In a traditional Catholic funeral, there's usually a vigil service (also referred to as a wake or rosary service), a funeral Mass and a graveside committal. While burial is traditionally part of a Catholic funeral, cremation has become increasingly common in Singapore.
A priest (usually from the same church where the deceased had been receiving sacraments during their lifetime) is engaged to conduct the funeral rites. Eulogies, prayers and scripture reading are present during the vigil service, often with the accompaniment of soft instrumentals. During the funeral, the priest delivers a sermon, conducts Mass and a Holy Communion.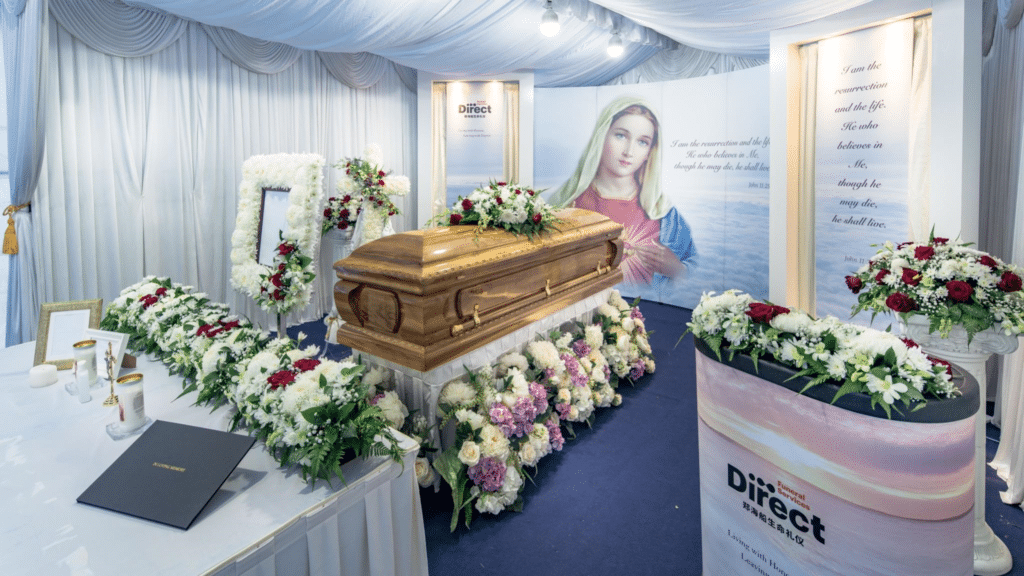 Catholic funeral set–up
The Catholic funeral Mass includes the sprinkling of Holy Water on the casket, reciting of blessings and scriptures by both the family and the priest. A partaking of bread and wine follows, and finally, another blessing of the casket with Holy Water and incense.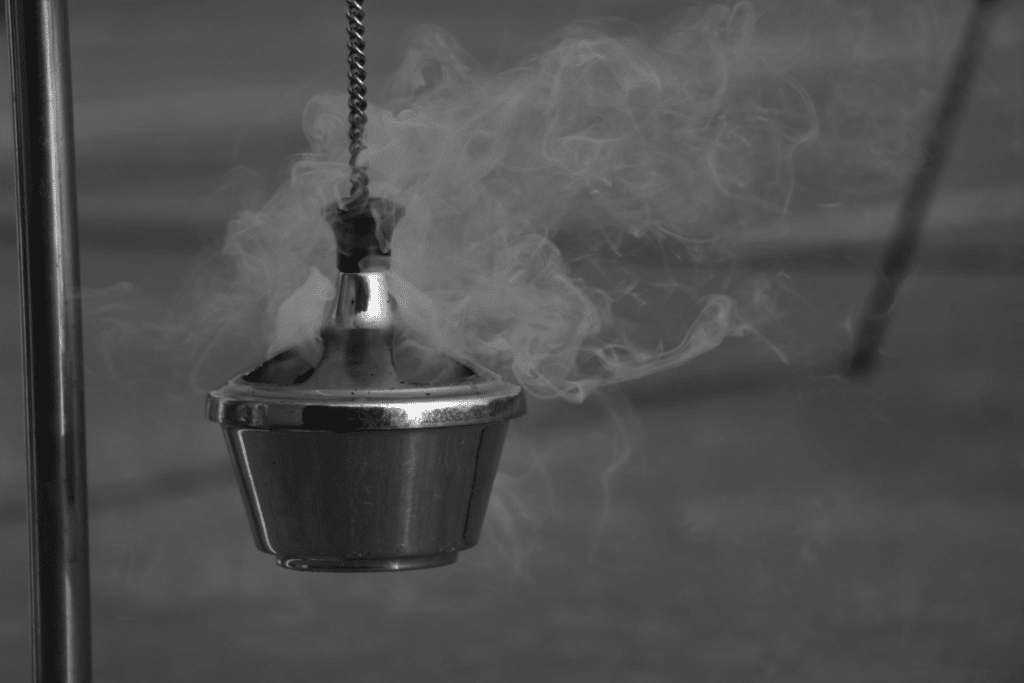 Catholic incense
Catholic funeral etiquette and dress code
You might ask, do these traditions extend to us as guests at a wake—what is expected of me if I'm not part of the Catholic faith? Are there things we should take note of when attending a Catholic wake? No matter what our faith is, it's always courteous and respectful for us as guests to familiarise ourselves with the customs.
Family members may opt for formal attire. For guests however, casual wear is acceptable as long as they are modest and in darker colours—black or muted colours are a safe choice. Congregants may be required to move from sitting to standing to kneeling. As a visitor, you may not be required to kneel, though it's considerate of you to stand when others do. Obtaining the blessings from the priest during the procession is fine even if you're not of the Catholic faith, but you should refrain from partaking in the Communion.
A Holy Communion consists of a wafer biscuit (without any raising agent) and wine
Other typical forms of expressing sympathy and condolence are through the giving of condolence money and the gifting of sympathy stands (whether floral or LED). If you're intending to gift the bereaved family LED sympathy stands, do be sure to engage a licensed LED wreath vendor as Singapore's government has recently tightened the rules surrounding the display of such stands.
These days, it's also becoming more popular for funerals to feature wishing trees and memory books, where guests can leave condolence messages and share fond anecdotes of the deceased.
Wishing tree and memory book provided by the Direct Funeral Services team
After all, what better way to honour the legacy of those who are no longer with us than to remember the beautiful moments that we once shared with them?
What other aspects of a Catholic funeral in Singapore would you like us to explore? Drop us your suggestion via our Instagram @directfuneralservices! In the meantime, stay tuned for the third of our four-part series where we explore the customs, traditions and rites of Taoist funerals.